DISCLAIMER: I am an Amazon Associate and may earn from qualifying purchases made from the links above at no additional cost to you.
To help you through the holidays, I've listed out some of my favorite STEM (Science, Technology, Engineering and Math) buys for kids 12 and under.
Books are great gifts for the holiday, if you haven't checked out my previous book reviews then please check them out here.
Age 0-1 years:
In this age group, I'd recommend toys that encourage their already growing interest of the world around them without being too stimulating. Babies in this age group are typically learning through their senses, gaining increased mobility and trying to perfect gross motor skills. I selected toys that I felt were good for further developing those skills and interests. These can help build the foundation of learning and exploration.
I bought this Touch and Feel: Farm (Touch & Feel) when my daughter was 6 months old and she still loves it at 16 months old! Early on, it encouraged her to explore her senses and work on gross motor skills. Now it is helping her develop language and recognize some animals that live at a local educational farm near us (we bring this book with us when we visit).
This Melissa & Doug Deluxe Pound and Roll Wooden Tower Toy With Hammer was a popular toy for both of my children under the age of one. These types of toys are perfect for little ones as they begin to learn object permanence and develop hand / eye coordination. It became my child's very first 'puzzle' and it was versatile. As my children grew, they began using the hammer to further develop gross and fine motor skills as well as hand-eye coordination.
EverEarth Natural Wood Blocks, 80 Pieces are necessary for this age group. They help develop a child's creativity, help them explore fundamentals of cause and effect, gravity (objects fall down), balance, build hand-eye coordination, gross and fine motor skills, explore colors (if you purchase colored ones) and shapes, etc. These are also versatile for the future. Later on children can use them for sorting, designing, building, creating, experimenting, etc. And if you purchase these, your child could paint their own blocks!
Do you have a place outside your home near a window that would be a great place for this Sorbus Bird Feeder – Classic Tube Hanging Feeders for Finches Bird Seed and More, Weatherproof, Premium Hard Plastic with Metal Hanger, Great for Attracting Birds Outdoors, Backyard, Garden (2 Pack)?  Children at this age are so intrigued by nature.  My children LOVE watching birds come to the feeder especially in the window.  Ours is strategically placed outside their playroom window.  In the winter, feeders help non migrating birds find food.  It's a great way for children to explore birds more close up and appreciate nature.  I added this to this age group because children love watching birds go to the feeder at this age and it builds a foundation for an interest in nature, but this 'toy' could be given to any age group.  Accompany it with an age appropriate bird book and some bird seed!  We have a feeder very similar to this one and it is a hit!
Age 1-3 years:
In this age group, children are typically further refining their motor skills, developing language skills, developing socially and emotionally and just beginning cognitive development skills (understanding how the world works through experience). For this age group, I'd recommend toys that nourish their already natural need to perfect their motor function (especially fine motor), allow for creativity, and support their language development. Many children in this age range love to find ways to express their new found independence – that can be nourished with age appropriate problem solving toys.
I think most children in this age range, love water. These Boon Building Bath Pipes Toy Set, Set of 5 have been so much fun for both my children at bath time. They are great for teaching cause and effect since they can rearrange the pipes to make water flow various directions through the chain or they can be used separately.
I try to find more complex building toys for my children. Our favorite, by far, have been Magformers Basic Set (30 pieces) magnetic building blocks, educational magnetic tiles, magnetic building STEM toy and LEGO Duplo My First My First Bricks 10848. Both of these toys offer expansion packs so you can continue building their collection. My daughters love mixing and matching the pieces from different packs to create something new.
Puzzles are another great option for kids in this age range. They help develop fine motor skills, hand-eye coordination and problem solving skills. This Melissa & Doug Classic Wooden Peg Puzzles (Set of 3) – Numbers, Alphabet, and Colors would familiarize children with numbers, colors, letters and number words. The pegs make it just a little easier for little hands to grab and put them in place on the board.
We have toys similar to this Dinosaur Toys Take Apart Toys With Tools (218 pieces) – Pack of 6 Dinosaurs – Construction Engineering STEM Learning Toy Building Play Set – Toy for Boys & Girls Age 3 – 12 years old and my kids love it! It's great for developing coordination, cognitive skills and creativity. They can disassemble and reassemble. My only caution is to be sure that your child has past the phase of putting objects into their mouth because some parts and pieces could be a choking hazard.
My daughter picked out this B. toys – Two-ty Fruity! Wooden Abacus Toy – Classic Wooden Educational Counting Toy With 100 Beads – Natural Wood and BPA and Phthalates FREE Beads from the store when she was about 16 months old. It's never too early to start counting… while they may not understand the concept of counting yet, familiarizing them with counting language and allowing them to move the pieces on the abacus is fun. Later on, kids can use this for learning how to add and subtract small numbers.
Age 3-5 years:
Children in this age group have (and are continuing to) greatly expand their language. They also have a huge imagination, love creative play and are extremely active. As far as cognitive development, they are capable of sorting objects by size, shape, color, etc. They also enjoy counting, begin understanding the concept of time and what it means to split something in half. Some can even begin counting money. They are not logical thinkers, so they typically "learn by seeing and doing". This is a wonderful age to introduce experimentation and teach hypotheses, however simplicity and repetition is key. Kids are learning through play at this age.
Learning Resources Code & Go Robot Mouse is a problem solving and critical thinking toy that introduces children to the concept of coding. Kids lay out the maze for the mouse to find the cheese, then select and layout the order of the movements with cards. After the cards are laid out, they 'program' the steps into the mouse and watch how it moves. This toy challenges children to think critically and problem solve. It is also totally hands on and experimental. Also, keep your eyes out for this Fisher Price Think & Learn Code-a-Pillar Toy.  DISCLAIMER: I have not tested the Code and Go Mouse myself.
My daughter is really into space. Check out this cool Smithsonian Space 2019 Wall Calendar! A calendar is such a cheap, inexpensive learning tool for children to learn numbers, counting and understanding the concept of time. I found my daughters calendar last year in the discount bin at Target. This coming year, I splurged a little bit and ordered it off of Amazon. We incorporate our calendar into our nighttime routine with her. It's helped with number recognition and counting.
A magnifying Single Learning Resources Jumbo Magnifying Glass for Kids (One Magnifying Glass of Random Color Per Order) has been one of the best interactive learning toys for my toddler. She brings it outside with her on warmer days and she examines nature with it – fallen leaves, flowers, grass, tree nuts, bark, insects, etc. She also uses it inside, for example, to examine her clothes, books, toys and the floor. She pretends to be a detective too. We've pretended to be underwater divers looking for "treasure" with it also. If you get one of these, watch your child's imagination take over.
Melissa & Doug Stained Glass Made Easy Activity Kit: Princess – 100+ Stickers, Wooden Frame is really great for kids in this age range. These are hands on and teach number recognition as well as fine motor skill development and cognitive skill development. Check out my post on Learning numbers and early math for additional information.
Do you want to encourage your child to love chemistry? This Learning Resources Primary Science Lab Activity Set, 22 pieces looks great for allowing kids to do some experimenting while learning various experimental terms like beaker, eye dropper, flask, etc. It comes with simple experiment cards for your child to enjoy and test. DISCLAIMER: I have not tested this toy myself.
Marble runs are perfect for this age group. It develops their creativity, fine motor skills, and problem solving and cognitive skills. I love this Marble Genius Marble Run Super Set – 100 Complete Pieces + Free Instruction App (85 Translucent Marbulous Pieces + 15 Glass Marbles) because it is transparent (kids can see the marble move through it) and it has so many starter parts and pieces.
If your child loves space like mine, they will absolutely adore this Discovery Kids Planetarium Projector for Children with Rotating Stars Night Sky Mode and Stationary Slides Mode with Planet, Constellation, Solar System, Nebula, Spaceship, and Star Slides. The planetarium is shaped like a space ship and has two projector modes: 1) the moving side has a dome that rotated and projects stars like the night sky and 2) the stationary side allows for 4 included reel discs for children to view space images like a nebula, the planets, the moon, the sun, galaxies, etc. The only downside is that the reel disc don't have a cheat sheet to know what you are looking at, so you'll need to do your homework ahead of time like we did.
My children love this Fisher-Price Medical Kit. We've even brought it to the doctors office with us! It's a great toy for imagination and acting out doctors office visits. It introduces children to simple tools that doctors utilize to check patients. It includes a blood pressure cuff, thermometer, otoscope, bandage, syringe and stethoscope.
If your child is already into Duplo Legos, another alternative to the Marble Run mentioned above is this BATTOP Marble Run Building Blocks Construction Toys Set Puzzle Race Track for Kids-97 Pieces.  It works similarly to a marble run but attaches directly to your childs Duplo Legos set.  I opted for this option for my children because they absolutely love their Duplo Legos. DISCLAIMER: I have not tested this toy myself yet.
Age 5-8 years:
Children in this age group have developed better reasoning skills and will continue to gain more confidence in reasoning. They have also learned new skills like reading and writing, which makes it easier for them to work more individually on complex activities. Selecting toys that allow them to continue improving these skills and selecting ones that continue to expand their creativity is critical for this age group to continue building confidence in their skills.
Anyone that has been following my Fairy Garden Project will understand why I purchased this tool set for my 3 year old daughter. I put it in this age group because younger kids will definitely need help using these tools, but older kids (in this age group) will not need as much supervision. I actually bought this tool set from my local Lowe's recently. It includes everything my child would need to help work on various household projects with us and also has many needed tools for our Fairy Garden project his winter.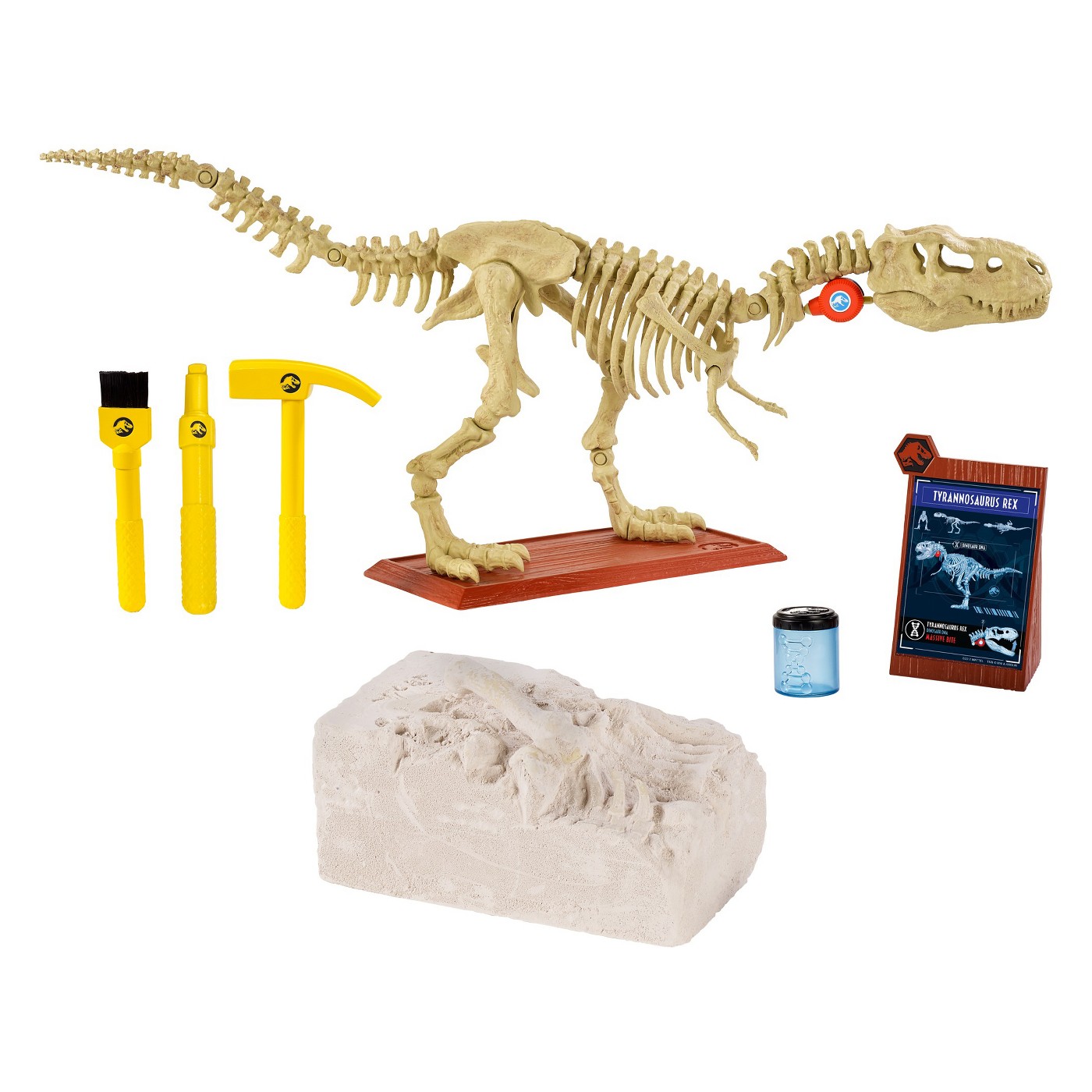 Does your child enjoy digging, dinosaurs or want to be a paleontologist? I'd suggest checking out Jurassic World Stem Playleontology Kit. Kids get the opportunity to dig, chisel and brush away dirt to reveal the dinosaur bones of a T-Rex. It can then be displayed on the display stand included. Once assembled, the mouth of the T-Rex will open and close. They get to experience what it is like to be a paleontologist. A book on dinosaur bones would be a great accompaniment to this toy. DISCLAIMER: I have not tested this toy myself.
How amazing would it be for your kids to make their own ice cream and learn science simultaneously? I found this Play and Freeze, Ice Cream Ball- Ice Cream Maker, (77349)Maker and I can't wait to try it out with my kids when they are older! This is a hands-on experiment where kids learn the science behind freezing and movement. They must read and follow the instructions for it to work. The result is delicious ice cream in 30 minutes. Don't forget to check out the included recipes and buy the ingredients in advance too! DISCLAIMER: I have not yet tested this toy myself.
I remember when I was this age, I LOVED getting mail. Buying a subscription to a magazine would be exciting for kids in this age group. If they love learning and reading facts about animals and science, I'd suggest checking out a National Geographic Kids subscription. If you've never checked out the images in these books, you need to. The photographs are stunning.
ThinkFun Math Dice Junior Game for Boys and Girls Age 6 and Up – Teachers Favorite and Toy of the Year Nominee is a fun mental math game for kids learning and honing in on their addition and subtraction skills. Kids in this age range love games and this one looks like it would be fun to play as a family and would prepare them mentally for their middle school years. DISCLAIMER: I have not yet tested this game myself but have read the game details and game reviews.
Who remembers The Magic School Bus: Greatest Original Episodes? These movies are still wonderful learning tools for children. In this DVD, children are taken through space, the human body and the eye of the storm. These episodes are so easy for children in this age range to understand and keep their attention. We have this DVD and my children love it.
Age 8-10 years:
Middle schoolers are typically able to apply more logic and reasoning skills. They are also typically a bit more methodical in their thinking and approach than younger children and they are very fluent readers. More advanced toys that require them to read and follow instructions, problem solve issues and use their creativity would be great for this age.
Snap Circuits Jr. SC-100 Electronics Exploration Kit | Over 100 STEM Projects | 4-Color Project Manual | 30 Snap Modules | Unlimited Fun is amazing!! I have this toy listed under this age range mostly because it does require some creative methodical thinking to work on this alone but this could easily be adapted for younger children if you are willing to work with them on it. Another option for more simplicity would be to check out Snap Circuits Beginner Electronics Exploration Kit | Over 20 STEM Projects | 4-Color Project Manual | 12 Snap Modules | Unlimited Fun which, based on reviews, has simpler diagrams to follow and may be easier for a bright young child. Children build various circuitry based on the diagrams provided and enjoy the success of completion or use problem solving skills to troubleshoot issues. All parts snap together, so it's safe for children. I bought this to work on with my 3 year old and it was actually a lot of fun. Of course, attention span is limited at that age, but it primed her interest for electronics which was my goal for her age.
K'NEX were popular when I was a kid and it's nice to see that they haven't lost their popularity. If you are looking for a building toy for this age group, check out the K'NEX – 35 Model Building Set – 480 Pieces – For Ages 7+ Construction Education Toy (Amazon Exclusive). K'NEX allows kids to build objects that actually move. This set allows for creativity and helps develop more advanced cognitive skill.
If your child loved their marble run and they love challenges, then the ThinkFun Gravity Maze Marble Run Logic Game and STEM Toy for Boys and Girls Age 8 and Up – Toy of the Year Award Winner might be a great toy for them. It is a much more intense complicated maze set up with 60 challenge cards. The pieces can be arranged many different ways which is what makes this challenging. This toy claims improve spacial awareness and logic. Based on the videos I reviewed, I would agree. Check out the video in the link to see how it works. DISCLAIMER: I have not tested this toy myself.
The Everything Kids' Science Experiments Book: Boil Ice, Float Water, Measure Gravity-Challenge the World Around You! has several household scientific experiments that are safe for children to do with some adult supervision. Experiments are organized and easy to understand. If your child is planning for science fair this year, this might be a good book for them. DISCLAIMER: I have not personally reviewed this book.
Age 10-12 years:
Children in this age rage typically have a very developed cognitive ability. They can gather thoughts, opinions and facts and formulate their own organized thoughts. They also typically use and practice more mental math and start learning more advanced math concepts in school. Any additional practice you can provide for additional skill practice in a fun way, while learning new concepts, would be helpful to confidence building.
Practicing more advanced mental math would help children in this age. This game, Math for Love Prime Climb, is a game that requires children to do mental addition, subtraction, multiplication and division. Younger children can play with an adult. It is a game that combines skill, luck and strategy. DISCLAIMER: I have not personally tried this game.
Discovery Propulsion Rocket by Horizon Group USA is a reusable rocket launcher that uses household products for launching. Fun ways to use this launcher would be timing how long for take off, timing how long it's in the air and measuring how far the rocket launches. This would also be a great toy to research energy and Newton's 3rd Law of Motion. DISCLAIMER: I have not personally tried this product.
While I personally have not read this book yet, I have read numerous reviews and have a reliable resource that First Man: The Life of Neil A. Armstrong is an excellent book. Neil Armstrong was the first man on the moon but he was also an incredibly talented engineer and astronaut. He was a man that lived through the infancy of the space program. This book is also a major motion picture. DISCLAIMER: This book is on loan and on my reading list!
If you are looking for something similar to snap circuits but a bit more challenging, check out Snap Circuits Snapino – Making Coding A Snap | Snap Circuits & Arduino Compatible | Perfect Introduction to Arduino Coding | Great STEM Product.  It introduces coding concepts to their electronic design.  Each project has detailed instructions explaining how to connect the circuitry and also how to write the code in the program that your child can download onto their own computer. DISCLAIMER: I have not tested this toy myself yet. 
As always, these are suggestions for each age range. Some children may require more or less challenging toys based on their needs and skill level. Some of these products (noted above), I was not able to review or test myself, however I did a thorough review of each to make my recommendation. I was able to test most products with kids in the younger age groups but not the older ones.
If you have any questions, please contact me at momgineeringthefuture@gmail.com.